Normally the content of the conference is decided by a separate programme committee without linking it strongly to the design of the conference. In the worst cases, the conference content comes out in a totally separated process and all the rest of the design elements are purchased separately from independent suppliers. This is due to the fact that there is no so called event architect involved in the process. Therefore the possible integrated, holistic approach of event will be missed out.
In the case of the Solutions local, together Conference the conference architect was in the heart of the processes ensuring that the key principles of the conference would be kept to the smallest detail. The programme reflected the name of the conference providing practical solutions on four themes – Earth, Water, Air and Fire. These four themes became also the core of the staging of the conference, as well as the divisions of the workshops with subtopics etc Also the conference days were labelled Together, Local and Inspire to further stress the content. More about the conference programme from the Solutions local, together Conference report.
The programme of the conference was composed by the National steering group of the conference. It was fine-tuned in one planning workshop one year before the conference. After the workshop an open call was arranged for identifying sustainable solutions to be presented under the different topics of the conference. Most of the solutions presented at the conference came through this open call.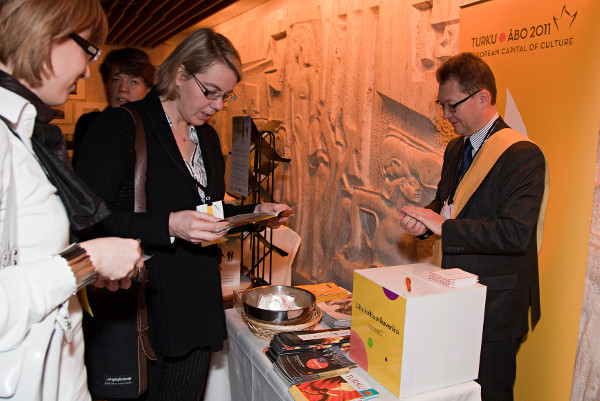 A truly sustainable event adds value to the ongoing processes, not just for those participating in the event, but also in the local surrounding where the event takes place. In the best cases the event improves content wise the process or leaves a trace in the local reality by creating new processes that continue after the event. The integration of different local organizations already from the beginning increases the likelihood of this to happen. Very often only one local organization is included in the planning process. Also it is worth to consider to integrate the event into other happenings taking place at the same time in the hosting country/city.
The Solutions local, together Conference had three planning stages that were integrated together from the very beginning. There was a National steering group, a Nordic planning group and a local planning group. All of these had very distinct roles and enabled a better integration of the event to the local, national and Nordic processes. The Solutions local, together Conference was a kick off to the Finnish Presidency of the Nordic Council of Ministers in year 2011. This enabled a high level presentation of the Nordic cooperation ministers at the conference and also a larger media exposure of the conference and the presidency programme. The conference was also linked with the European Culture Capital Turku 2011 year through local visits.