Very often the conferences have a life of their own during the event and do not necessarily advance the topic in question in the hosting city. This is truly a pity as the potentiality to influence on the local reality is big. Then again, once there is an attempt from the organizer side to create local connections and to get to know the situation, this is warmly welcomed. This was the case of the Solutions local, together Conference, as there were several enthusiastic parties to brainstorm the topics from the local approach and to give birth to several new approaches.

As a result of the planning process of the Solutions local, together Conference offered 13 side visits showcasing local sustainable solutions to participants to choose from. In addition to this three side events and four processes were created. The local food initiative was already described under catering, here are the rest of the side events and processes explained briefly. The processes were implemented prior to the actual conference and had an impact on the conference programme. Part of processes continue to live also after the conference. The side events complemented the conference programme and enable citizens, companies and organizations to actively participate in it. These events advanced the local sustainability processes and managed to raise the awareness of the importance of small everyday actions.
Water path in schools
The Solutions local, together Conference initiated a "Water path" process, out of which a practical Water path was introduced in autumn 2010. The "Water path" is composed of several, functional path points that are targeted for the 5th graders in connection to the school camps that are organized annually by the city of Turku. Thanks to the path materials, the teachers are easily able to arrange a hands-on activity for the class as part of the camp programme. The path materials are available in all of the camp locations of the city.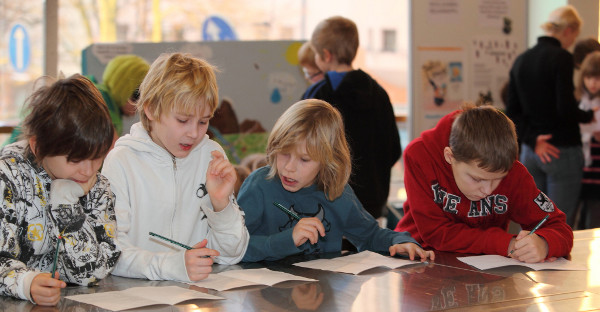 During the conference a separate school event with functional exhibition was organized for the grades of 3-9. In the exhibition, the children had a possibility to get to know part of the Water path and other environmental activities offered by the different actors involved. This event had over 1000 visitors during the day.
Practical solutions to climate change -competition
During the year 2010, an international competition targeted at the Baltic Sea Region and the Nordic countries was searching for business concepts, practices and technologies to assist municipalities and other local and regional actors to better control the effects of climate change. The competition was looking for projects that would: combat climate change, support local and regional economics, employment and general well-being, lead to concrete changes in the practices of the municipalities and their residents, and be able to be broadly implemented as a successful measure. In total, 78 solutions from seven different countries were sent in. The competition was part of the Solutions local, together Conference and the winners of the competition were announced at the conference.